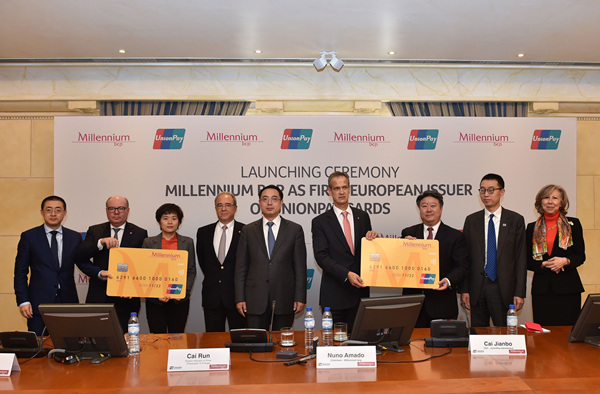 UnionPay International CEO Cai Jianbo (3rd right) and Millennium bcp CEO Miguel Maya (4th right) respectively. Chinese Ambassador to Portugal Cai Run (5th right) was present to witness.

This year marks the 40th anniversary of the establishment of diplomatic relations between China and Portugal. Over the past four decades, the partnership between the two countries in the field of finance has strengthened continuously. UnionPay International announced today that UnionPay will be accepted at all the merchants in the network of Caixa Geral de Depositos (CGD), the largest bank in Portugal; and UnionPay will reach 100% acceptance in Portugal this year. On the same day, Millennium bcp, the largest private bank in Portugal held a UnionPay card issuing ceremony, starting issuing the first UnionPay card in the country. UnionPay International CEO Cai Jianbo, CGD CEO Paulo Macedo, Millennium bcp CEO Miguel Maya attended the aforementioned ceremony, and Chinese Ambassador to Portugal Cai Run was also present to witness.
In December of 2018, Portugal and China signed a memorandum of understanding on building the "Belt and Road", and ties between the two countries have become increasingly close. According to the local tourism department, the number of Chinese tourists visiting Portugal will exceed one million in 2019. Lisbon is planning a grand celebration to welcome the Chinese New Year. In order to better serve UnionPay cardholders, UnionPay International has carried out extensive collaboration with major local institutions over the past few years to have reached card acceptance at all ATMs and about 80% POS terminals that accept international bankcards in Portugal. The local UnionPay acceptance network covers hotels, restaurants, shopping malls, supermarkets, tourist attractions, etc. 
Mr. Cai Jianbo said that on the basis of continuously expanding its acceptance network in Portugal, UnionPay International has achieved breakthroughs in local card issuance, expanding its service target to local consumers and providing stronger support for the economic cooperation and personnel exchanges between China and Portugal. UnionPay's business progress in Portugal set a positive example for its business expansion in Europe. Recently, several major institutions in Portugal have expressed their willingness to partner with UnionPay International in card acceptance, issuance and innovative payments. UnionPay International will continue to accelerate its business expansion in Portugal to support the implementation of the Belt and Road MOU.
Millennium bcp will successively issue more than 200,000 UnionPay cards in 5 years. The cards to be issued include UnionPay debit, credit cards, as well as premium and commercial cards. These cards can be used in UnionPay's global acceptance network and is equipped with the UnionPay QuickPass payment feature. UnionPay International and Millennium bcp will expand their card-issuing collaboration to other markets where the Bank is present. Local major institutions are also actively promoting card issuance collaboration with UnionPay International, and are expected to issue UnionPay cards this year. In addition, UnionPay International is accelerating the rollout of its innovative payment products. It is expected that UnionPay mobile QuickPass payment and UnionPay Online Payment services will be launched in Portugal for the first time in the first half of 2019.
To date, UnionPay is accepted at more than 3.3 million merchants in 40 countries and regions in Europe, accounting for more than 60% of all bankcard-accepting merchants in Europe. This year, UnionPay will reach about 100% acceptance in Spain. In France, local institutions including Crédit Agricole and La Banque Postale are enabling hundreds of thousands of merchants to accept UnionPay cards. UnionPay mobile QuickPass service is recently available in the United Kingdom, Poland and other European countries, enabling UnionPay cardholders to make tap-and-go payments with their mobile phones.