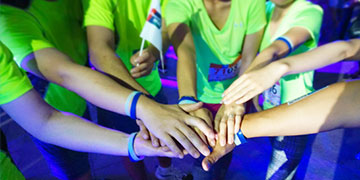 According to UnionPay International, an enterprise is expected to create social value in addition to realizing commercial value, and its core value is "Share Growth". Apart from the mutual benefits and win-win results created together with partners, UnionPay International is also dedicated to giving back to the society, and becoming better with the world.
We have carried out donations, environment protection activities and volunteer services of different types, based on which unremitting efforts are made to enrich activity contents, and call more employees to be citizens with high sense of responsibility, and to make contributions in such areas as education, environmental protection and community construction.

Blood Donation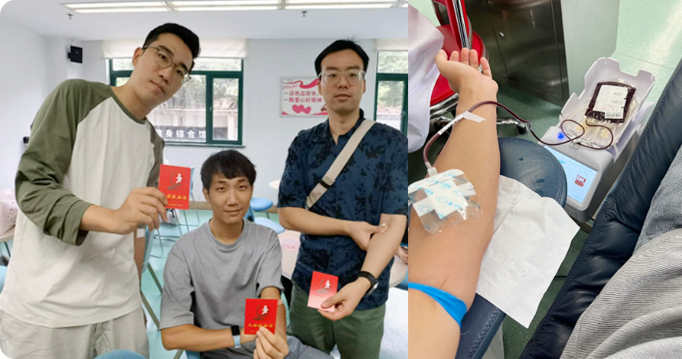 Blood Donation
On September 15, 23 volunteers took part in the second voluntary non-remunerated blood donations in 2023 at the Pudong Blood Management Center. At 8:30 am, the volunteers checked in, had their blood tested and then drawn at the venue. A total of 19 individuals passed the health screening and successfully donated blood. Additionally, 6 colleagues based in Shenzhen have also made donations. Their generous action is a manifestation of "Give blood, give plasma, share life, share often", the slogan for 2023 World Blood Donor Day.

Donations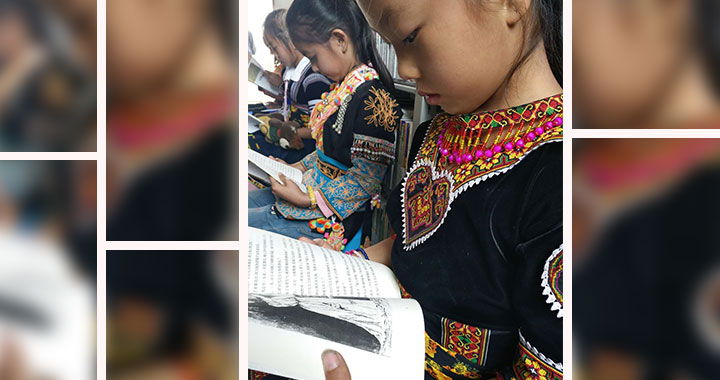 "Pass Love On" through donating books to schools in mountainous areas
The Youth League General Branch of UnionPay International continues to work with Shanghai Suishou Charity Foundation to carry out educational aid activities. In 2018, the Youth League General Branch of UnionPay International set up a library for Darao Primary School in Tongchang Township, Jinping County, Yunnan Province. In 2019, youth league members of UnionPay International take children's interests in and needs for reading into consideration and actively recommend donating books for them. As a result, a total of 500 books are donated, which cover popular science, history, fairy tales, masterpieces, art and picture books and other various aspects, further enriching the variety of books available in the library of Darao Primary School.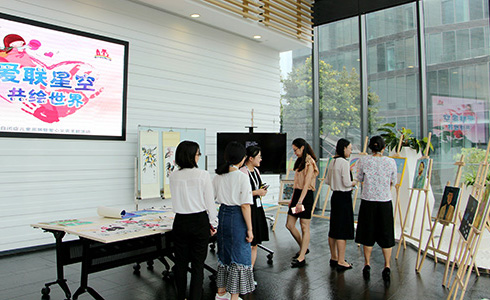 Painting Exhibition and Charity Sales for Autistic Children
On September 7, 2017,the painting exhibition and charity sales titled as "Connecting Starry Sky with Love, Joint Painting of the World" for autistic children were held for the purpose of calling on more people to care for the special group of infantile autism and to join the team of love volunteers. Donation is offered to Rainbow Pen Charity, Hongkong District, to establish baking workshops for autistic children and special groups, and to cultivate those silent dreamers on their hands-on skills as well as professional and living skills.
Help Realize Children's Small Dreams
Since 2013,we have paired with Pudong Changlin Primary School for Peasant Workers' Children to assist the school to build its library. Each year, we donate books, schoolbags and stationery to the students, and support students with financial difficulties. In March 2017, we further carried out the activity to collect the small dreams of 10 outstanding students, and helped them realize their dreams.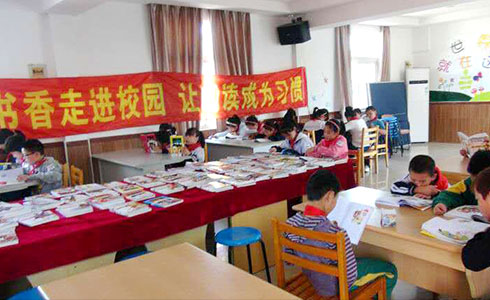 Student Assistance Program
In 2014,the "Love UnionPay" volunteer group was established, which is created to Pudong Changlin Primary School dedicated for children of migrant workers.The groupinitiates the "Assistance Program of Happy Library", continuously concerns students with material difficulties therein, and carries out the student assistance program. Each year, volunteers send student supplies to the school, and help the school to sort out and arrange books, which fully displays the spirit of UnionPay International for concerning poor students and making donations.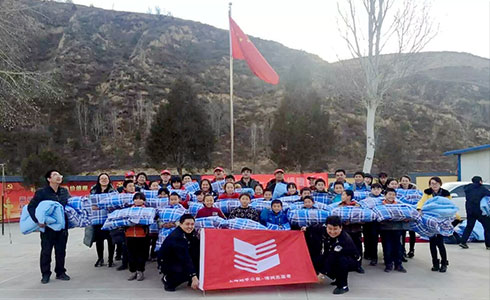 One-Yuan Program
We have initiated the One-Yuan Public-welfare Program since 2015, which takes the coins our staff used to buy coffee from the coffee machine as charitable funds, and collaborated with Shanghai Suishou Public Welfare Foundation to make donations. In April 2017, 50 pieces of "Loving Schoolbags" were donated to children in impoverished mountain areas. Students are guided to exchange their books, so as to establish a mobile library. In July, 50 hygiene kits were donated to children in Yunnan, Guizhou and other remote areas, including toothbrushes, toothpastes, towels, soaps and hand cream.

Public Welfare of Environmental Protection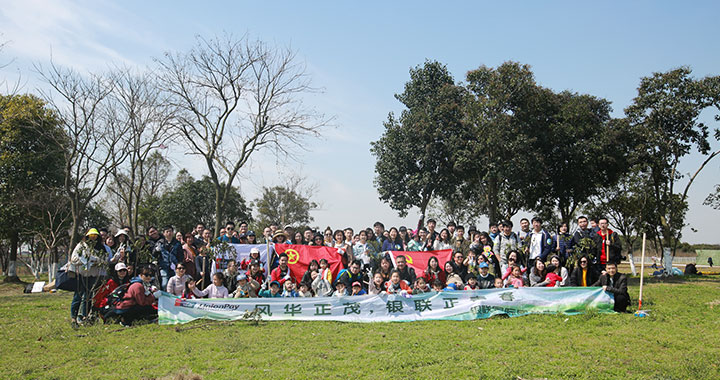 Tree planting activities for public welfare
In order to actively respond to the basic national policy of conserving resources and protecting the environment, and to adhere to sustainable development and promote the development of ecological civilization, UnionPay International carries out voluntary tree planting activities every year. Since 2015, UnionPay International has carried out tree planting activities for five consecutive years, with a total of more than 360 trees planted. The above picture shows the scene of the tree planting activity with the theme of "UnionPay is in prime and youth" carried out by the United Union under General Party Branch and Youth League General Branch of UnionPay International on Mar. 23, 2019.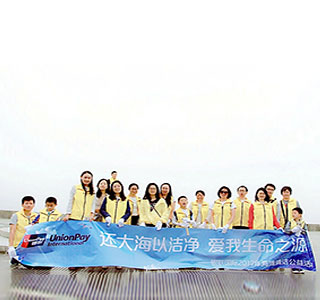 Beach Clean-up Public Service Activity
On September 23, 2017, the Beach Clean-up Public Service Activity was organized at Nanhui East Shoal, so as to call on more residents to know the damage of marine litters, and to engage in the ocean protection activities. Litters picked up in this activity will be applied to further study on the composition of Nanhui marine litters as well as the data materials by marine monitoring, which will be classified into the global database of marine litters. This activity can warn people of the current status of the contamination caused by marine litters, and encourage people to work on the solutions in a proactive manner..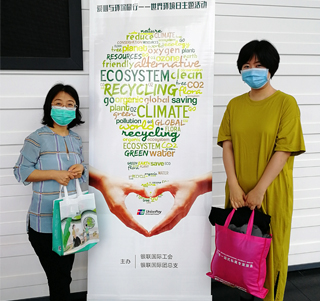 Love Greens the Planet
In June 2020, we celebrated World Environment Day with the "Love Greens the Planet" campaign in which the UPI employees donated books, school bags, stationery, toys and clothes to be collected by members of the UPI Love Volunteer Team. The donations will be sent to the left-behind children and the elderly in mountainous regions in provinces such as Yunnan and Guizhou by the frontline volunteers of Shanghai Suishou Charity Foundation, a charity partner with UPI. The annual campaign appeals to the staff to help those in need, and calls on all employees to lead an eco-friendly lifestyle and join the UPI Love Volunteer Team in support of environmental protection
Turn "waste" into wealth
In June 2014 and June 2015, UnionPay International cooperated with the "Greener China" public welfare organization to carry out the recycling-themed activity. People donated idle books, newspaper, old clothes, small household appliances and waste battery actively, and volunteers performed centralized recovery. Upon sorting, available articles are donated to families and individuals needing them via volunteer service project. Articles unavailable for use again are delivered to environmental protection companies for recycling disposal, and then produce new value, beneficial for the development and implementation of other micro public welfare programs.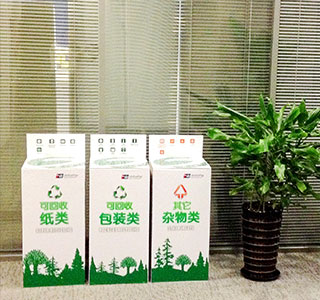 Green Office
In July 2015, such activities as garbage classification and green office were carried out. In accordance with the generation characteristics of wastes, milk package sorted out by recycling stations is turned into garbage classification boxes and recycling bins of used batteries, and put at each floor, which mobilizes all the employees to engage in garbage classification and green office, contributes to the green office of UPI, and earnestly implement environmental protection.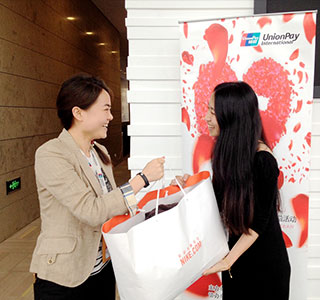 Recycling of Old Clothes
In June 2016, the old clothes recycling activity titled as "2016 Beautiful Old Clothes, Love in UPI" was carried out. All the clothes recycled were provided for those people who need them upon cleaning and disinfection, and some proper clothes delivered to poor regions like Yunnan and Guizhou. Those warm charity activities also spread the consciousness of green environmental protection and the volunteerism in a better manner.

Volunteer Service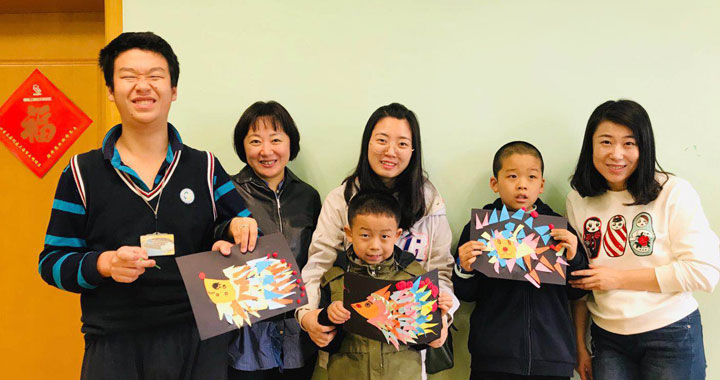 Accompanying children with autism
The year of 2019 witnesses the fifth year in which Youth League General Branch of UnionPay International carries out assisted teaching activities in art classes for children with autism. For a long time, as long as there is no special situation, the Youth League General Branch always organizes young volunteers at the end of each month to come to Caihongbi Children's Health Development Center, Hongkou District, to accompany children with autism in painting, handicrafts making, reading and other activities as voluntary teaching assistants. The picture above shows the scene of young volunteers accompanying the children to make a 3D painting of hedgehog on Mar. 30, 2019.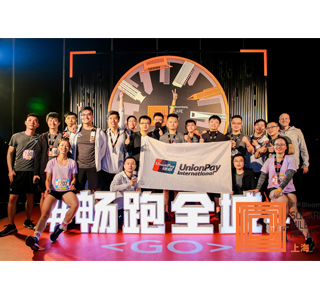 Bloomberg Square Mile Relay
On October 25, 2019, we competed in the 5th Bloomberg Square Mile Relay Shanghai, and hit a new company record over the past five consecutive years of participation. Our active engagement contributes to charity while advocating fitness and a healthy lifestyle. The event successfully raised CNY 150,000 as a donation to the charity partner Special Olympics to empower athletes with intellectual disabilities. In the future, we will continue to promote sportsmanship, compete bravely, and pass on love to more people in need.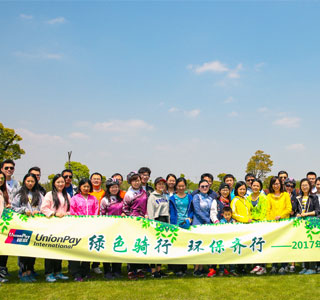 Environmental Protection Themed Cycling
In April 2017, we organized the "Environmental Protection Themed Cycling" on the World Earth Day. Through this activity, we call for more people to choose the more environmental friendly way of commute and traveling, and to care for the nature.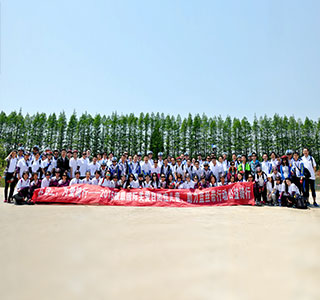 Non-profit Riding
In April 2015, the non-profit riding activity titled as "On the Road- Ride for Love, Concern Autistic Children and Help Blue Ribbon Action" was carried out. The activity of low-carbon green riding with blue ribbons is beneficial for public welfare propaganda, which can call the society to concern autistic children, help them to integrate into society, and create a fair, respectful, tolerant and loving social environment for them.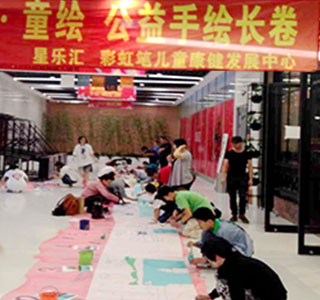 Drawing in the International Children's Day
In June 2016, the volunteer group participated in the charity activity titled as "Dream, Heart, Happiness and Drawing of Children" and organized by Rainbow Pen Children Health Development Center for Children's Day. On the spot, volunteers accompany autistic children with full patience and love, assisted them in drawing the north Bund, and created a happy Children's Day for them.