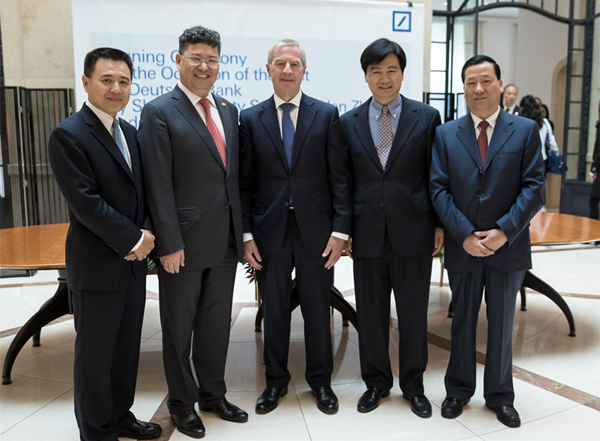 Ge Huayong (2nd right), Chairman of UnionPay International, Jürgen Fitschen (3rd left), co-CEO of Deutsche Bank, jointly attended the signing ceremony.


UnionPay International announced today it reached cooperation with Deutsche Bank and its ATM service provider EVO to enable UnionPay card (card number starting with 62) acceptance by all the ATMs under Deutsche Bank in Germany. The latest development will see the local ATM acceptance of UnionPay cards rise to over 60% to provide more convenient card-using experience for cardholders in Germany for travel, business and study. Ge Huayong, Chairman of UnionPay International, Jürgen Fitschen, co-CEO of Deutsche Bank, and Mark Spangenberg, Chief Operating Officer of EVO, jointly attended the signing ceremony.

Deutsche Bank, the largest commercial bank in Germany, is also one of major banks in the world. With advantages in network, products and services, UnionPay serves the world's largest cardholder base and has become the preferred payment brand of outbound Chinese tourists. According to the cooperation agreement between UnionPay International and EVO, UnionPay cards will be accepted by about 6,500 ATMs of Deutsche Bank, which will lay a solid foundation for broader cooperation between UnionPay International and Deutsche Bank. EVO provides ATM acquiring service to many banks in Germany.

Ge Huayong said as more and more tourists from around the world prefer to travel to Europe, UnionPay International is constantly improving the local card acceptance environment. Germany is one of the European markets to which we attach great importance. UnionPay is willing to work together with partners to serve the increasing number of cardholders and wish to make breakthroughs in local card issuance and innovative services so as to promote the overall optimization of the card acceptance environment and card-using services in Germany and Europe.

Jürgen Fitschen and Mark Spangenberg both stated that they are glad to see the cooperation with UnionPay International and the partnership will increase the ATM acceptance of UnionPay cards in Germany and help local institutions enhance their capability of serving UnionPay cardholders. As the next step, they hope to increase exchanges and cooperation with UnionPay International in more fields.

Currently, UnionPay cards are accepted by 80,000 merchants in Germany, including duty free shops, malls, department stores, and brand franchise stores, which are frequently visited by tourists. In the European market, UnionPay cards are accepted by almost all the ATMs in Britain, Switzerland and Austria. In France, Italy and Spain, UnionPay cards are accepted in major local shopping centers and duty free shops and many hotels and restaurants even offer exclusive privileges for using UnionPay cards.