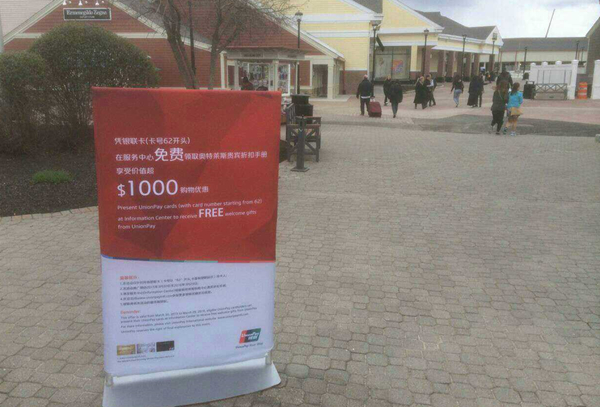 UnionPay International joins hands with four major US outlets to offer exclusive privileges for using UnionPay cards.

Exclusive offers are launched for using UnionPay cards in four outlets in the US. UnionPay International announced on April 27 its cooperation with Simon Group, the largest commercial real estate group in the US, to launch a one-year campaign to provide holders of UnionPay cards (card number starting with 62) exclusive privileges in four Premium Outlets in New York, Los Angeles, San Francisco, and Las Vegas which are favored by international tourists. The activity will expand to more areas to provide tourists travelling to the US with more convenient and preferential card-using experience.

From today to March 31, 2016, UnionPay cardholders can get a VIP Coupon Book worth 10 dollars at the service center of Woodbury Premium Outlets, Las Vegas Premium Outlets (North), Desert Hills Premium Outlets, and the Livemore Premium Outlets, which contains discount coupons with a total value of over 1,000 dollars. Each UnionPay card can be redeemed for one coupon book only. There are more than 200 merchants in each of the four outlets on average, with over 90% of them accepting UnionPay cards.

Currently, UnionPay cards are accepted by over 80% of merchants across the US, especially in cities frequently visited by Chinese tourists. Cardholders not only can make signature-based payments with UnionPay credit cards in these merchants but also can make PIN-based payments with UnionPay debit cards in some of the merchants with PIN pads. Over 90% of ATMs in the US accept UnionPay cards for cash withdrawal and many of them provide convenient Chinese interfaces. In addition, UnionPay card cross-border online payment service has been enabled in some major e-commerce merchants in the US including eBay, Amazon and its subsidiary Shopbop.

More than 2.2 million tourists visited America in 2014, up by 200% over the past 5 years. With the Sino-US reciprocal visa policy signed at the end of 2014 to grant each other's citizens a business or tourist visa with a maximum validity of 10 years compared to the previous 1 year, spending by Chinese tourists visiting the US is expected to see continuous growth. To better serve cardholders, more and more UnionPay card exclusive privileges are offered in the US, such as a previous campaign featuring discounts at 80 global airport duty-free shops launched by UnionPay International in March which covers 11 well-known duty-free shops at 10 international airports in the US and provides at least 5% exclusive discount for paying with UnionPay cards.

Tips for using UnionPay cards in the US:

1. PIN-free and signature-based verifications are provided for UnionPay credit cards in the US. Currently, PIN-free verification has been enabled by 15 major domestic banks (the list can be found on the official website of UnionPay International). It is suggested that cardholders of other banks which are not in the list contact the bank to cancel the PIN before travelling to the US so as to enjoy PIN-free verification in the US. For more information, please contact your bank.

2. Dual-brand cards cannot be used to pay via the UnionPay network. Cardholders are recommended to carry their UnionPay credit or debit cards (card number starting with 62) to enjoy the privileges and services provided by UnionPay.

3. Many merchants in the US allow cardholders to swipe their cards on their own, please select "Credit" in the case of a credit card or "Debit" in the case of a debit card.