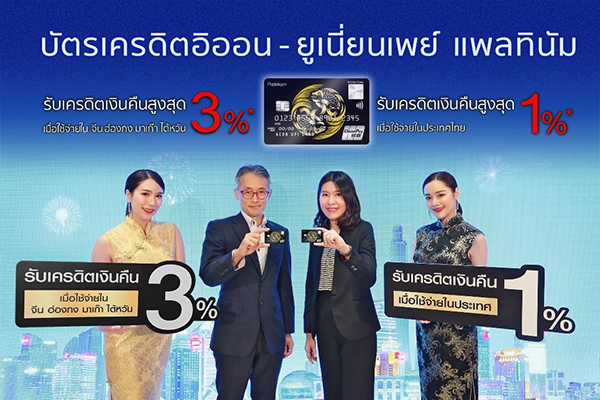 Mr. Tsutomu Omodera (2 from left), Managing Director of AEON Thana Sinsap (Thailand) Public Company Limited, a leading retail finance company, and Miss Kwanrata Soponpanaat (2 from right), Head of Business Development of UnionPay International (Thailand), China's largest credit and debit card service provider, jointly launch AEON-UnionPay Platinum Card to provide comfort & convenience for every spending in China, Macau, Hong Kong and Taiwan to AEON cardholders. The campaign targets families who plan to send their children abroad to study in China, Macau, Hong Kong and Taiwan, customers who conduct business in Greater China as well as those who travel to the region.

Mr. Tsutomu Omodera, Managing Director of AEON Thana Sinsap (Thailand) Public Company Limited added "AEON, as a leading retail finance company, has been highly recognized for multiple modern lifestyle offerings, especially among travelers worldwide. This time, we are pleased to announce the joined forces with UnionPay to uplift travel privileges both in Thailand and overseas trips. We have integrated extensive data to launch the new innovative product that aims to leverage our customers' lifestyles in the digital era. Customers can now enjoy special local offers with ultimate exclusivity, along with various promotions tailored to their customized behaviors."

Mr. Huiming Cai, General Manager of UnionPay International Southeast Asia said "As a leading global payment brand, UnionPay continuously develops products and services to offer more choices and better serve the different segments of our valued customers. We are delighted to partner with AEON in launching the new Credit Card with exclusive privileges for both domestic spend and international travels. Equipped with UnionPay QuickPass (contactless) feature, Cardholders can enjoy secure, convenient and quick payment with just a simple tap when making payment at merchants in Thailand, as well as at over 20 million POS terminals globally when cross border travel reopens."

AEON-UnionPay Platinum cardholders can enjoy up to THB 3,000 in cash back monthly from 3% cashback when spending in China, Macau, Hong Kong and Taiwan and 1% cashback when spending in Thailand. Cardholders also will also get free access to the exclusive Miracle Lounge at Suvarnabhumi International Airport or Don Mueang International Airport (2 times per year), AEON Lounge (4 times per month). For maximum peace of mind, AEON also offers up to THB 31 million in travel insurance coverage. AEON-UnionPay Platinum cardholders will also enjoy discounts and special privileges from UnionPay International merchants globally as well as full access to UPI's 24-hour call center and concierge service.

Special promotion! Customers can receive a THB 2,000 Big C e-voucher when spending THB 30,000+ with AEON-UnionPay Platinum Card between December 16, 2020 and February 28, 2021. Cardholders will also enjoy AEON's 365-day privileges that include a THB 100 GrabFood discount when spending THB 300+ on the card (via AEON THAI MOBILE app), a THB 10 discount on any drink at any Cafe Amazon nationwide, Mcdonald's Extra Value Meal at a special price of THB 79 as well as a 5% discount at MaxValu and MaxValu Tanjai on AEON Day.

Apply today for AEON-UnionPay Platinum Card at any AEON branch nationwide, www.aeon.co.th, or AEON THAI MOBILE App.